3-Man Team Tournament? I don't get it.
Here is how this basicly works: After three weeks of discussions, bribes and social back stabbing -- Team Evil Beard and Team EBP Danish are formed and register for the tournament. The first round of matches begins and Team Evil Beard finds itself competing against Team EBP Danish.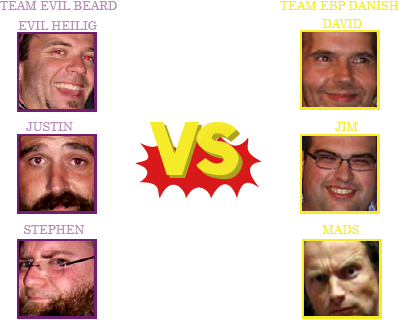 The first game is chosen randomly and it is High Speed (editor's note: supposedly one of Mitch's favorite games!). A 2-player game is coined up and both teams Ro-Sham-Bo for choice of position. EMP Danish wins the choice and chooses to represent player 2, with Team Evil Beard representing player 1. Team Evil Beard decide Heilig will play ball 1. Stephen will play ball 2 and Justin will play ball 3. EBP Danish decide David will play ball 1, Jim will play ball 2 and Mads will play ball 3.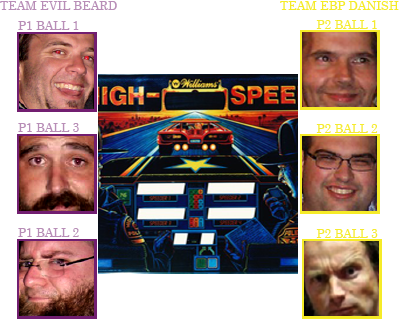 After a tough battle, Team EBP Danish beats Team Evil Beard on High Speed. Since Team Evil Beard lost the first game, they are allowed to choose the next game. They decide to play Firepower (editor's note: #1 on Mitch's top 10!). Since Team Evil Beard got to choose the game, Team EBP Danish gets to choose position. They again choose to play as player 2, with Team Evil Beard representing player 1. Both teams choose their play line up and proceed to battle.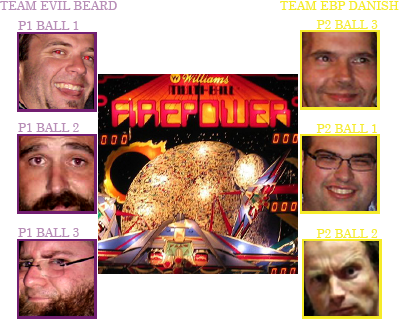 It's a close match, but Team Evil Beard beats Team EBP Danish. It's come down to the tie breaker game. Since Team Evil Beard got to choose the second game, Team EBP Danish gets to choose the final game, with Team Evil Beard getting to choose play position. Team EBP Danish decide to choose Shaq Attaq (editor's note: Uncanny! It's like Mitch's top ten list come to life!). Team Evil Beard decides to represent player 2, with Team EBP Danish playing as player 1.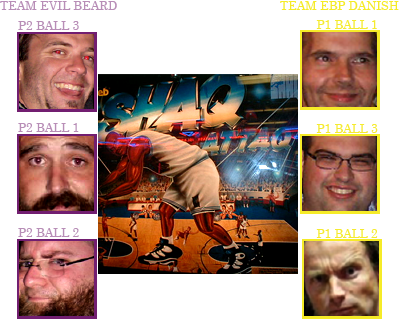 Team EBP Danish wins! Team Evil Beard is given a strike. If this is their first strike, they get to wait for their next match up. If it is their final strike, they are out of the tournament.
Who? What? Where? How much? Hunh?
Who?: Phoenix Games and EBP
Where?: Phoenix Games in Concord
When?: March 15th, 2014 -- NOON
How much?: $40 per 3-man team
Hunh?: 3-Man Team Tournament, Strikes Format -- Read the Rules
Why?: Why not?
What tables will be in the competition?
For a current list of tables that are at Phoenix Games, check out the official East Bay Pinball website. Machines set for 5-ball will not be a part of the competition. Because 90% of the tables at Phoenix Games are privately owned by EBP members, there is a healthy rotation of new games coming in every 3-4 weeks. Therefore, PBR can't provide a solid list of tournament games until the day of the event.
I want to participate, but I don't have a team put together.
Registration is open only to 3-man teams at this time, so go make friends and find two other people that enjoy pinball.
Will you form "Wild Card Teams" for those of us who could not form a team?
No.
...
...oh. You want more on that? Honestly, registration for this format can get potentially messy if the tournament organizer is trying to organize a team for you. While we would like to accomodate the lone wolves of our community, we more so would like to encourage you to get to know and buddy up with your local players.
I have a team but we aren't in a league.
Although in spirit this is a league vs. league event, the competition is open to any 3-Man team. If you're not a part of a league and you live in the Bay Area, take the opportunity to find one near you and give it a try. On the same token, if you are a part of a league, don't try to slip under the radar. We'll find out one way or another who you are playing for (EBP spies are everywhere).
We have a team built up from multiple leagues, is that okay?
It's fine, but for the sake of bragging rights the team should represent one league. If you have two Bapa players and one EBP, you'll represent Bapa. If you have 1 EBP, 1 Pinball Mafia and 1 Capitol Corridor player…well…first of all stop complicating shit. Secondly, whoever the alpha male (or female) of your group is determines which league your team represents.
I'm starving and dying of thirst!
...because of time constraints, we can not have an official lunch break. You're in luck, however, since Phoenix Games is located in a shopping center with plenty of food options. As with all tournaments, you're bound to be sitting around waiting for things to progress at some point. Utilize those moments wisely in your fight against hunger.
Is this an event or a game store?
Just a quick note, although this is a tournament it is being held in a place of business. I expect the store to be packed, so please try not to crowd the front counter or do anything to keep Phoenix Games normal business operations moving along. If you're waiting for a tournament game and need some place to mingle, we suggest checking out the back alley. Introduce yourself to other pinball enthusiasts.
DERP!
Indeed.